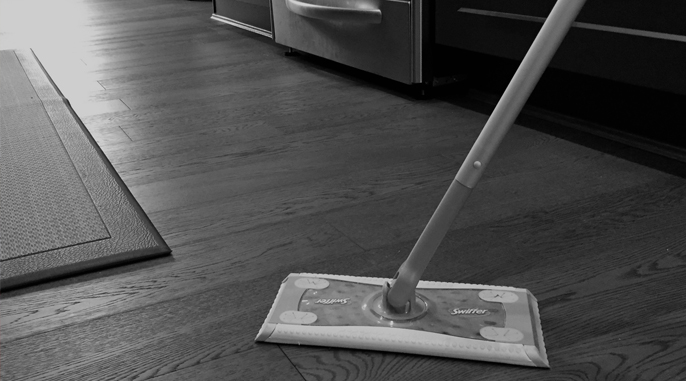 Caring For Your Floor
With today's advances in wood flooring stains and finishes, cleaning your wood floors has never been easier. Regular maintenance requires little more than sweeping with a soft bristle broom, and vacuuming with a soft brush attachment if your wood floor includes a beveled edge that could collect debris. You should also clean your floors periodically with a professional wood floor cleaning product available at most hardware stores.
For cleaning our oiled floors use Ciranova Flooring Soap.
This simple format will give you years of beautiful Hardwood Floors
There are other steps you can take to minimize maintenance and maintain the beauty of your wood floors as well.
Use throw rugs both inside and outside doorways to help prevent grit, dirt and other debris from being tracked onto your wood floors. This will prevent scratching.
Do not wet-mop a wood floor. Standing water can dull the finish, damage the wood and leave a discoloring residue.
Wipe up spills immediately with a slightly dampened towel.
Do not over-wax a wood floor. If a wax floor dulls, try buffing instead. Avoid wax buildup under furniture and other light traffic areas by applying wax in these spots every other waxing session.
Use Teflon floor protectors available at most hardwood floors. There are also Teflon cups available for larger furniture feet.
Avoid walking on your wood floors with cleats, sports shoes and high heels. A 125-pound woman walking in high heels has an impact of 2,000 pounds per square inch. An exposed heel nail can exert up to 8,000 pounds per square inch. This kind of impact can dent any floor surface.
When moving heavy furniture, do not slide it on wood flooring. It is best to pick up the furniture completely to prevent scratches.
For wood flooring in the kitchen, place a non-rubber-backed area rug in front of the kitchen sink.
Use a humidifier throughout the winter months and dehumidifier/air-conditioner  to minimize gaps or cracks and maintain an Ambient Relative Humidity between 40% and 60% throughout the year
OILED FLOORS
Oiled floors require periodic maintenance to bring back luster and remove scuffs that build up over time.
Only use the recommended cleaning maintenance products.
After installation it is recommended that your Natural Oil finished floor be given a complete treatment with our oil cleaner and our maintenance oil. This ensures complete coverage of the entire floor surface and adds an additional layer of protection to the oil that was applied in the factory.
Make sure you sweep and vacuum (with a soft brush head) the floor first before applying any maintenance product.
Download Our Care and Maintenance Guide