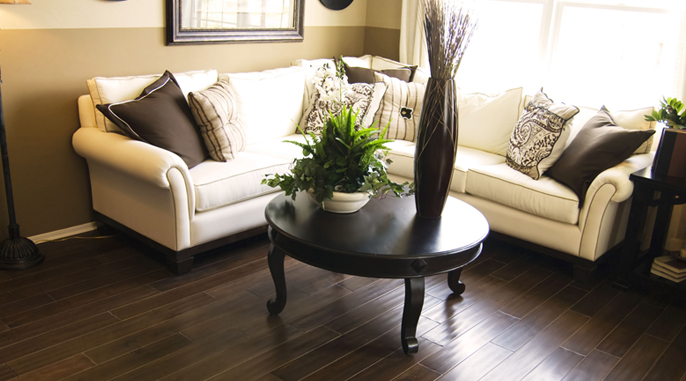 Hardwood Floor Warranty
Our Hardwood is manufactured under the strictest of quality controls. You will find our flooring to be milled with very stringent specifications, with very few defects compared to industry standards. We hope you will enjoy your new flooring for many years to come.
Who This Warranty Covers
This residential warranty covers the original buyer / installation site owner when the flooring is installed in residential environments, meaning single family homes, duplexes, apartments, townhouses, etc. Commercial environments, including but not limited to stores, offices, clubs, and short term residences such as hotel rooms, rental cabins, etc. are not covered under this warranty. This warranty is not transferable to subsequent owners.
What This Warranty Covers
This warranty covers all Stanley Cooper Hardwood Floors purchased from an authorized retailer in North America (USA and Canada).
Pre-Installation Warranty
It is the duty of the installer, whether professional or DIY, (do it yourself) to inspect all flooring before installation. If during inspection the installer or buyer feels the flooring is the wrong color, improperly manufactured, has finish problems, is off-grade, or is the wrong gloss level, DO NOT INSTALL THE FLOORING.  Please immediately contact the retailer from which the flooring was purchased. No claim will be accepted for flooring which is visibly wrong if such flooring is installed.  Installed flooring is deemed to be visibly acceptable. Since wood is a product of nature, not plastic, standard industry practice allows for up to 5% of flooring shipped to have milling, handling, finish and/or grade defects.  This warranty applies only to material that is in excess of this 5%.  We will replace or refund the purchase price of defects, material deemed to be defective in excess of this 5%. When flooring is installed, naturally a certain percentage goes to cross cutting and fitting waste.  Another small percentage of the flooring will go into closets and other unseen areas.  It is assumed that an experienced installer will cross cut out small defects during fitting or put visibly unusual pieces in seldom seen or unobtrusive areas. By not removing 100% of the defects in the hardwood floor factory, we help save precious natural resources as well.
Finish Warranty
The pre-installation warranty above covers the replacement / refund for any flooring returned in excess of 5% of the total flooring shipped with visible defects. This includes visible finish defects, prior to installation. We also warrant to the original purchaser that the finish will not blister or peel off for 25 years under normal residential use. See exceptions under the "Exclusions" heading. In addition, our hardwood warrants to the original purchaser that our finish will not wear through for 25 years. If there is a problem with wear through, it must exceed 10%of the surface area for the warranty to cover. Changes in gloss level are not covered under this warranty, including shiny spots that might develop if you too aggressively rub in one spot. Because of this, any installation glue should be removed immediately and not allowed to dry. Overtime it is normal for overall gloss levels to change and as such is not warranted.
Lifetime Structural Warranty
We offer a Lifetime Warranty to the original purchaser that our flooring products will not delaminate (separation between plies). Delamination is when any of the multiple layers making up the piece of flooring separates. Your new hardwood floor is manufactured to exterior / marine use standards. We are very confident in the high quality of the waterproof adhesive used to laminate all layers together. This warranty does not cover whole boards of flooring coming off of the sub-floor, which is a problem with the installation processor glue,not the manufacturing process. Although we guarantee our product will not delaminate, if our flooring is exposed to extreme humidity (whether from the wet subfloor or flooding of your residence) or extreme dryness (less than 35% relative humidity) you will see light shrinkage, swelling, cupping or even cracking of the solid wood wear layer. Wood is naturally hydroscopic (similar to a sponge) and such shrinkage, swelling, cupping or cracking due to extreme variations in humidity are to be expected and are not warranted for. Normal environmental conditions to maintain interior relative humidity means that heating and ventilation systems should be designed to maintain humidity levels (in the air) between 4O% to 6O% RH all year round to ensure the best performance of your new Hardwood Flooring.
Moisture Warranty
A "Dry" Slab as defined by any tests can be wet at other times of the year. Any tests do not guarantee a "Dry" Slab except for that point in time. Your New Hardwood Floors have very good moisture resistance. But remember that any moisture that is spilled on the floor must be cleaned up soon after the spill happens. Floors damaged due to moisture spills are not covered by this warranty.
Radiant Heat Warranty
In-floor hydronic radiant heat systems can significantly alter product performance. Only the products warranted for hydronic radiant heat systems (oak and walnut only) can be used over these radiant heat systems. If any other product is used, all warranties are void.
Exclusions
Claims for flooring pieces installed even though there are visible defects. It is the installer's responsibility not to install pieces with visible defects and not to use them. Flooring, once installed, is deemed visibly acceptable
Claims made on flooring pieces installed with excessive color / grain variation is the installer's responsibility to install the flooring in a random mix
Color changes in the wood as it ages or is exposed to sunlight or differences in the colour / grain compared to showroom sample
Color variations in wood flooring are natural and new or replacement flooring may not match sample flooring or existing flooring
Changes in Gloss level are not covered under this warranty, including shiny spots that might develop if you too aggressively rub in one spot
Excessive swelling and / or shrinkage or other movement such as cupping or bowing in the flooring due to extreme changes in relative humidity. Relative humidity outside the recommended range of 4O%-60% will normally cause such problems
Excessive moisture causing swelling, cupping or other such movement due to a wet subfloor,or spills, too much wet mopping, pets, or flooding, excessive ground moisture caused by natural weather conditions, including (but not limited to) excessive rainfall, hurricanes, tornadoes, flooding or other natural disasters are not covered by any terms of this warranty
Insect infestation after the product leaves the distributor's warehouse
Whole pieces of flooring coming off of the sub-floor, which is a problem with the installation process, not the wood floor
Damage caused by settling, on uneven subfloors
Damage arising from accidents, abuse, abnormal wear, pet scratches, grit, and high heal indentations, dents, dragging heavy objects, excessive heat or excessive dryness. (Exposure to excess heat or dryness may cause cupping, delamination, splintering and / or face checking).
Improper handling during shipping or storage after the date that the flooring leaves the warehouse control
Improper preparation or excessive moisture content of the surface on which this product is installed
Improper installation whereby the hardwood installation instructions are not followed
Improper maintenance and failure to protect entry and high wear areas with mats, etc, as per NWFA maintenance Instructions or inadequate care
Refinishing the floor
Natural expansion and contraction that may cause cracks or separation between boards
What Will We Do If Any Of The Covered Events Occur?
Our commitment under this warranty shall be limited to, at its options, providing replacement of shortages, exchange of defective products or refund of purchase price for flooring with visible defects returned to place of purchase.
For flooring with delamination and finish problems which occur after installation and not visible prior to installation, we, at our option will repair or replace the defective flooring and / or refinish the defective finish. In the unlikely event that we are unable to correct the problem after a reasonable number of attempts, we will refund the portion of the purchase price for the section of failed flooring. The sole purpose of the remedy provided herein is the replacement / repair of defective products or refund of purchase price. This remedy shall be the buyer's exclusive remedy, and shall not be deemed to have failed of its essential purpose so long as we are willing to replace/repair such defective goods or refund the purchase price. We also reserve the right to verify any claims or defect by inspection and have samples removed for technical analysis.
Additional Terms Of The Warranties
The warranty applies only to pre-finished hardwood flooring that has been installed and used strictly and exclusively for residential purpose,not for commercial or industrial use. in addition, the flooring must be installed in compliance with the installation and maintenance guide. This warranty is the complete and exclusive expression of our warranty and is in lieu of all other express and / or statutory warranties. Any implied warranties including but not limited to the implied warranties, merchant ability and fit for a particular purpose are limited in duration to the duration of this expressed warranty. The manufacturer, distributor and supplier assume no liability for incidental or consequential damages occurring from, or as a consequence of, the defective flooring, or any cost or expense that the purchaser may incur or obtain.  This warranty is subject to the limitations and exclusions set forth herein and is the exclusive warranty as to the hardwood flooring products purchased, and contains the exclusive remedies that will be provided for breach of any warranties whether expressed or implied. This warranty specifically replaces and excludes any other warranties in relation to this hardwood including the legal warranty in jurisdictions where exclusion of such warranties may be provided for bylaw. Under no circumstances may the product buyer exercise any type of recourse whatsoever, except for conditions specific in this warranty. This warranty does not apply to any product or products designated as seconds, tavern grade, cabin grade, special, or nonstandard items. Any product or products so designated as sold "as is". In order to get performance under this warranty, the person seeking performance should first contact the retailer from whom they purchased the flooring.
Warranty Claim Procedure
If you wish to claim under warranty, first contact the authorized retailer where the flooring was purchased. A claim must be filed and submitted to retailer within one (1) month of appearance of defect. We reserve the right to inspect the product. The original, dated purchase invoice, completed with the retailer or distributor's stamp will need to be submitted. No alteration, replacement or repair may be carried out before the product is inspected by an authorized inspector. Any replacement will be provided only after the authorized inspection of the product and its agreement to the defective condition. Failure to comply with this stipulation will make the warranty null and void.